If you need to out of stock a product or an ingredient used to make a product, please follow these steps:
The easiest way is to access your Maker Account is here.
From this page, scroll down to your 'Published Customizers.'
Click the down arrow beside 'Add a new product' and select 'Out of Stock' from the pop-up menu. This will take you into the Out of Stock tool.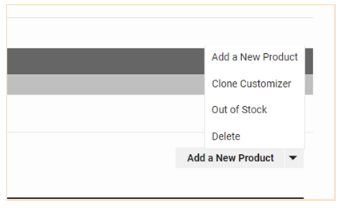 From here, you'll be able to manage individual options or the whole product line. To make the whole product line out of stock, select 'Add' and then 'Continue'.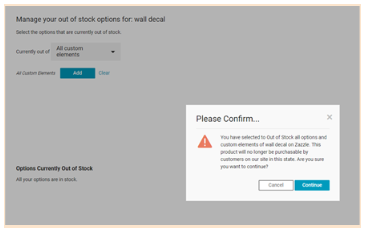 Finally, click 'Submit' on the bottom right of the page. This will save the changes.


You will need to repeat these steps for each published Customizer to ensure those items will not be sold.
Once those items are available again and you're able to continue to produce orders, you can just as easily reinstate your Customizers from Out of Stock.
Go into each product Customizer via the Out of Stock option from the pop-up menu.

Select the check the box for 'All Custom Elements', then click 'Remove Selected.' Select 'Confirm' and click 'Submit.'

Repeat this process for each Customizer you want to make available for sale again.